Premium Halal Meat for Export and Local Domestic Supply
Nach Food Co is your quality meat supplier and partner in your success in the food service industry.
Welcome to your gateway to top-quality halal meat supply
As one of Melbourne's premier suppliers and exporters of top-quality Australian halal meats, Nach Food Co. specialises in meeting the discerning needs of restaurants, function centres, and food service venues that want to serve their customers the finest halal meats.  
In addition to supplying premium signature and branded meats locally in Melbourne, and domestically across Australia, we also export our halal meats to international markets.
Personalised Premium Halal Meat Supply Services
Your success as a professional in the food service industry goes together with sourcing the best ingredients. We understand that.


✔ That is why our range of halal meats is high quality and carefully selected – we want to help you ensure your meat dishes have the best of ingredients and can reach their heights.
✔ You can rely on us as your trusted quality meat supplier. Whether you need portion-controlled or bulk meats or both, we will match your venue's requirements.
✔ You will enjoy the benefits of our well-developed and strong buying power and will be left satisfied with our competitive meat supply solutions.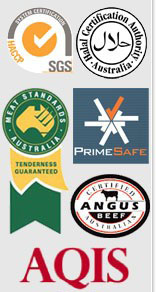 Extensive Fine Halal Meat Product Range
From succulent beef, tender lamb, and tasty mutton to goat with its subtle gaminess,
Nach Food Co's selection of premium halal meats is crafted to elevate your menus.


Whether you offer meat dishes as a restaurant, a function centre or another type of food service provider, you'll find what you need in our extensive meat range.
Nach Food Co is well-placed to cater to customers locally in Australia and globally on international markets. For international customers, our experience in exporting will ensure you receive your premium meats chilled or frozen by air or sea. 
Fine Halal Meat Supply and Service Dedicated to Your Satisfaction
You receive more than just fine halal meats from Nach Food Co.
We will ensure you are left satisfied with our customer-centric service, experience in supply chain and dedication to quality.
You'll be assisted by our team of experts to select the perfect meats for your unique requirements, whether you are based locally in Australia or overseas.
Nach Food Co is Your Supplier of Fine Meats
Experience Excellent Meats with Nach Food Co
Delight, satisfy and make your customers want to come back for more with the finest meats Australia has to offer.